GloBee volunteers with the support of the International Health Association delivered humanitarian aid to the de-occupied Kharkiv region.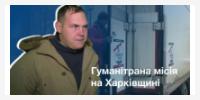 As part of the MAP project, a group of volunteers with the support of the International Health Association went to the liberated settlements of Velikiy Burluk, Katerynivka, and Hryhorivka. During the trip, it was possible to distribute more than 1,200 food kits with flour, pasta, canned food, tomatoes and water.
The benefactors note that the trip was very difficult. The roads to the villages are mutilated and practically destroyed, the local residents are morally exhausted, in some places shelling of the surrounding areas was heard. The most risky was the distribution of humanitarian aid in the village of Hryhorivka, which is 9 km from the border with the occupiers.
After the team distributed all the food kits, the convoy of cars returned to Kharkiv, and later to Kyiv.
Thank you to our partners
– for the provision of humanitarian goods, in particular to the organizations "Agrotrade of Ukraine", Space-Eye, Leave No One Behind, Netzwerk Ziviler Krisenstab and the German volunteer Eric Schaffer;
– for help with the organization of the route and escorting trucks with humanitarian aid from the organization "League of Good".
Even in such a difficult time for Ukraine, we BELIEVE in OUR VICTORY. Truth and God are behind us! Glory to Ukraine!